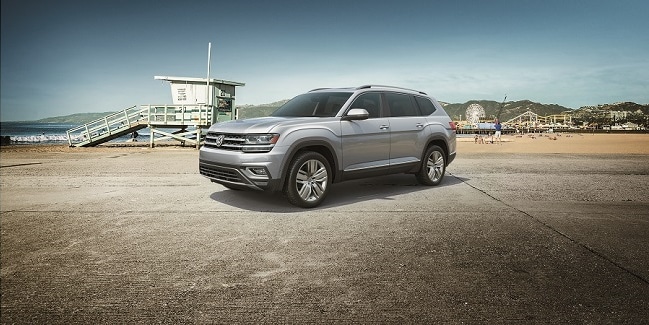 If your family is looking to update to a new three-row SUV, you deserve a vehicle that allows you to drive around Turnersville, Mount Laurel, and Cherry Hill in comfort and safety. You deserve the SUV that was awarded Best Three-Row SUV of 2017 by Cars.com-the 2018 Volkswagen Atlas. Prestige Volkswagen wants you to know why the VW Atlas deserves to be your next choice when looking at three-row SUVs.
VW Atlas Cargo Capacity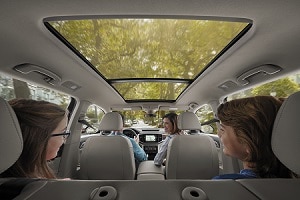 One of the features that Cars.com looks at when selecting their Best Three-Row SUV of 2017 is cargo capacity. The 2018 VW Atlas has an impressive cabin space that will fit anyone and will outshine any competitor. 20.6 cubic feet are available behind the third row, and 55.5 total cubic feet with the third row folded down. With both of the rear seat rows out of use, there is an incredible 96.8 cubic feet of cargo space.
Not only do you have plenty of space available, but you can take advantage of the 60/40 folding in the second-row seats and the 50/50 folding in the third-row seats to customize an ideal spot to fit your items
Car Seat Space
The most important thing that you will ever put inside your car is your family. One of the biggest hassles in transporting your family is installing car seats. Cars.com recognizes that the 2018 Volkswagen Atlas surpasses the competition in all-around ease of installing and maneuvering car seats. It did so well that Cars.com put it on the Car Seat Check Honor Roll due to its spacious second and third rows and the easily accessible Latch anchors
Every rear seat in the new VW Atlas can hold a car seat; that's five total in your SUV. However, this doesn't mean that the driver and passenger seats are uncomfortably pushed up. The Latch and tether anchors are accessible and don't get lost between the seats. One of the biggest advantages that the Atlas interior has is that all three seats in the second row can have car seats, and one LATCH-installed seat can still be tilted to allow access to the third row. This means that the kids can be in the second row and adults will still have complete access to the third row.
VW Atlas Towing Ability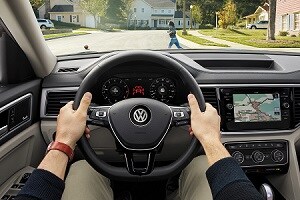 If your car needs to move your recreational equipment, the 2018 VW Atlas can handle that, too. The standard 2.0L 4-cylinder turbocharged engine produces 235 horsepower and can tow up to 2,000 pounds. If you're hauling heavier items, the fully equipped 3.6L V6 engine is available. With a towing capacity of 5,000 pounds, your fishing boat or small RV is moved with ease.
The 2018 VW Atlas includes many features to keep you and your possessions safe on the road, including Blind Spot Monitoring, rear view camera, and Rear Traffic Alert. Rooftop attachments are also available for anything you may need. Snowboard, ski, wakeboard, surfboard, kayak, and bicycle attachments are all available so that you can get to your next adventure.
Check out the 2018 VW Atlas
You deserve to drive a vehicle that you can trust to safely get you, your family, and your belongings where you want to go. The 2018 VW Atlas was named Best Three-Row SUV of 2017 by Cars.com for many reasons. Schedule your test drive today at Prestige Volkswagen to experience the star-quality of the 2018 VW Atlas for yourself.