Brake Troubleshooting DIY
If your brakes aren't acting the way they usually do, you may need to get a brake service. Before you head in to your local service center, it may help you to know what the problem might be. So there are a few signs to look for before heading to your local Volkswagen service center. 
Does it need regular maintenance or is there a malfunction?
The first thing you need to know is whether there's a serious problem or it's just time for your regular maintenance. Some signs of necessary regular maintenance can seem scarier than they are, but some malfunction signs can creep up on you. So check out the section below to find out what your brake problem symptoms might mean. 
Can you handle the issue or does it need a professional?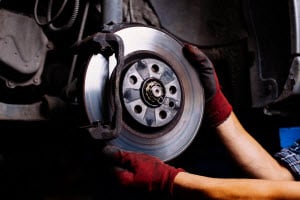 If you're a well-equipped and highly skilled mechanic, then you don't need us to tell you what's wrong with your vehicle. But if you're looking to save a couple of bucks by doing your brake repair yourself, we'll warn you that you might end up paying quite a bit more in the long run if that service doesn't go exactly as you'd planned. Be sure to call in the professionals if necessary.
Signs You Need Brake Repair
Your brakes are the central safety feature of your vehicle, so be sure to keep them in perfect running condition. If you notice any of these signs or symptoms, it's time to head in to the service center for a brake repair.   
Squeaking or squealing when applying the brakes - your vehicle needs new brake pads
          
Grinding noise when applying the brakes - your vehicle needs new rotors
          
Change in pressure to the brake pedal - there could be a leak in the brake line
Schedule a Brake Service
Is your vehicle having brake trouble near Mount Laurel, Cherry Hill and Turnersville? Get it checked out today to keep you, your family and other drivers on the road safe from a brake failure. The team at Prestige Volkswagen will be happy to help you get your vehicle back in perfect running condition, including brakes that don't squeak, grind or jolt. We offer a full range of automotive maintenance services including brake repair, transmission repair and even just regular oil changes. Our service center is conveniently located at 4271 Black Horse Pile in Turnersville, New Jersey. And our team is available during our long service department hours Monday through Friday from 8:00 AM until 5:00 PM and Saturday from 8:00 AM until 4:00 PM. Give us a call today at 888-711-7813 or schedule a service appointment online right now. Don't wait to get your brakes serviced, take preventative action now!