Your car needs clean oil to run properly. A good analogy would be to compare the car's engine to your heart, and the oil is your blood. Oil must flow for your engine to thrive as long as possible. Check your oil regularly to see if you need to change it. Don't change it strictly based on mileage guidelines. Our experts at Prestige Volkswagen list signs you need an oil change. 
Use a Dipstick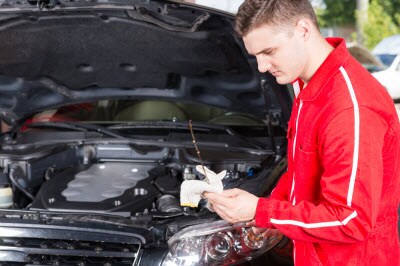 Normal motor oil has a yellowish-brown color. The oil turns black over time from dirt and other contaminants coming from the engine. Too much contamination blocks the oilway. Use the dipstick from the engine to check the oil. If it looks like a thick black glob, you should change the oil.
Thumb-Finger Test
Another good method is using your thumb and pointer finger to test the oil. Put on latex gloves. Then rub some oil between your thumb and finger. If it feels gritty or you see metallic flakes, change the oil immediately. Grit indicates the oil filters are blocked, and metallic flakes signal possible damage to your engine.
Check for Oil Leaks
Check to see if there are any leaks around the engine. Also inspect the spark plug wells. If you see any leakage or excessive oil film, take your car to a mechanic right away. You don't want any further damage to your engine.
Transmission or Engine Problems
If you have engine oil problems, your car's acceleration might feel sluggish, or the shifts might not work properly. The engine might make weird noises such as knocking or roaring sounds. When your car is idle in traffic, you might feel it rock. If you notice these signs, you likely need to change the oil. 
Smoke From Exhaust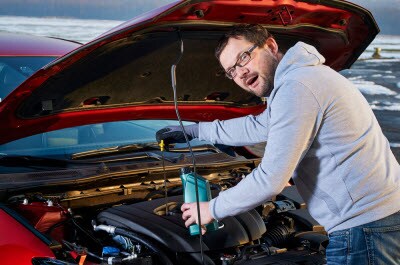 If you see smoke coming from the exhaust pipe, check your oil immediately. The most common cause for the smoke is an oil leak in your engine. It also indicates defective parts in the engine. Take your car to a mechanic if you see any oil leakage or damage to your engine.
Oil Level Indicator
Every car has an oil level indicator on the dashboard. Once the oil level reaches a low level, the indicator light blinks. Get your oil changed as soon as possible when you see the blinking light. If you change the oil and the indicator still blinks, bring your car to an auto shop for repair. Either the indicator is defective or the oil filters are severely clogged.
Your Trusted Auto Service Center
If you live in the areas of Turnersville, Cherry Hill or Mount Laurel, please visit our auto service center. At Prestige Volkswagen, we'll answer any questions about oil changes and even demonstrate what to look for when you change your oil. If your car needs repairs or an inspection, our highly-trained technicians will work hard to keep your car in peak condition. Check out our website for coupons and special discounts on car parts, repairs and other services.
We hope you follow the signs you need an oil change. Your car deserves the best routine maintenance, and changing the oil helps the car run for a long time.