Keeping your vehicle running smooth near Mount Laurel, Cherry Hill and Turnersville is easy if you stay up to date with all of your regular maintenance and service. One of the most important preventative maintenance services you can do to keep your vehicle running smooth is an oil change. The first question you'll get when you bring your vehicle in is this: synthetic or conventional? What does that mean? We've got the answers for you below.
Conventional vs. Synthetic Oil: What's the difference?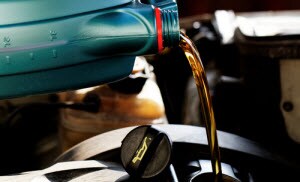 Conventional oil is what you're used to. It's the good old fashioned refined crude oil that's been made to help your vehicle run smooth for years to come. Synthetic oil doesn't use natural resources, and is instead manufactured to work the same way as conventional oil. So what's the difference, really?
How do they affect your vehicle differently?
Conventional oil and synthetic oil do exactly the same thing for your vehicle. The only difference you'll find between the two is in the actual timeline of when you need to get the oil changed again. Conventional oil will last you about half as long as synthetic oil but it will cost you quite a bit less. Unless your vehicle requires synthetic oil (check your owner's manual), it's really up to you. 
Are there any environmental differences?
Environmentally, they're about the same in terms of pollution and damage. However, when you choose synthetic oil, you're not using a crude oil. The process is quite water intense though, so it's probably about the same in terms of degradation. So which is better? The jury is still out, but if you want to help lower America's use of oil, consider switching to synthetic.
Which Should You Choose?
As you can see from the couple of questions we've asked and answered, the choice between synthetic and conventional is really just a preference. Unless your vehicle specifically requires you to get synthetic oil for your motor, you have the choice. The difference is an upfront cost, the timeline for getting your next oil change and whether using oil is an important factor for you.
Schedule an Oil Change Service
Is it time for you to get your vehicle's oil changed near Turnersville, Cherry Hill and Mount Laurel? Stop in to your local dealership service center to get the highest quality work available. Prestige Volkswagen is your local Volkswagen oil change center conveniently located at 4271 Black Horse Pile in Turnersville, New Jersey. 
We offer a full range of automotive maintenance services to keep your vehicle running smooth for years to come. Whether you're sporting a brand new Volkswagen or you've got a used car you're wanting to keep running, we'll be happy to help you accomplish your maintenance and service goals. Our service team is here to assist you during our regular hours Monday through Friday from 8:00 AM until 5:00 PM and Saturday from 8:00 AM until 4:00 PM. Give us a call at 888-711-7813 or schedule a service appointment online now.