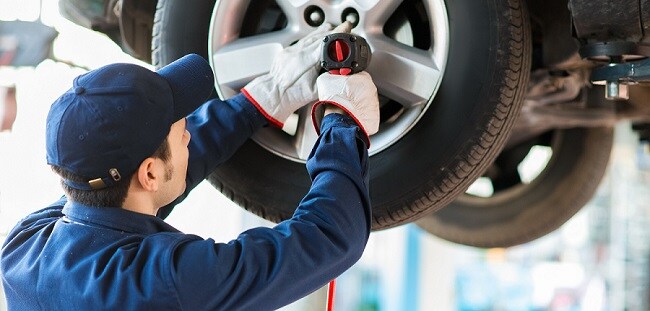 Your tires are a vital, often overlooked part of your car. You remember to schedule your oil change, replace your wipers, and get a car wash when needed, but taking care of your tires can be the difference between cruising down the road and pulling off on the side of the road. Our experts at Prestige Volkswagen are here to help you learn more about the importance of tire pressure and how to check it. Schedule your next tire service at our tire center.
Importance of Tire Pressure
Your tires are responsible for providing you with a smooth ride. Over-inflated tires mean that less tire is touching the ground, causing you to have less traction - you won't have firm contact with the road. Under-inflated tires mean that the tire cannot retain its shape, and it bends more as it rotates. This puts more tire on the road, resulting in reduced tread life and increased heat. Both extremes in air pressure can cause reduced control of your vehicle. The happy medium will keep your tires healthy for longer, which will make you happy because you won't have to worry about them.
Specifics of Your Car's Tires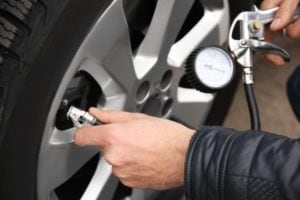 Not all tires require the same amount of air pressure. Check out your vehicle's owner manual to find the details on your tires and the required pounds per square inch (PSI). This number is determined by your vehicle's weight, size, towing capability, and tire size. The recommended PSI may also be listed on a sticker on the front door jam or the fuel door.
Key Times to Check Tire Pressure
Tires don't just lose air when they are punctured. Factors that affect tire pressure are cold or hot temperatures, carrying or towing extra weight, and driving distances. It's recommended that your tire pressure is checked once a month. This regular check will cover seasonal temperature differences and allow you to see just how much air is lost each month. Whenever you check your tire pressure, make sure that your tires are cold. Tires that have just been driven on are warm and won't give you an accurate reading.
How to Check Air Pressure in Tires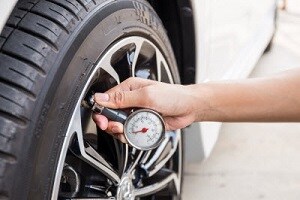 The process of checking tire pressure is extremely simple and takes only minutes. Two pieces of equipment will be needed - a tire pressure gauge and an air compressor. Gauges are a worthwhile investment in your car's maintenance. They can be digital or standard and are found at gas stations, online, and at auto parts stores. If you don't have an air compressor, head to your local gas station. Remember that it's ideal to check tire pressure on cold tires, so be sure to recheck the tires when they are cold to ensure that they are at the correct PSI.
Remove the caps on the tire's air valves (remember to replace them when finished).
Place the gauge over the valve and press down quickly - do this two or three times to confirm that you are getting an accurate reading.
Check the reading on the digital display or the stick.

If the PSI reading is above the recommended number, use the other side of the gauge to push in the air valve and release some air - take another reading and repeat until the PSI is at the recommended number.
If the PSI reading is below the recommended number, use the air compressor to fill your tire with air - take another reading and repeat until the PSI is at the recommended number.
Your Reliable Tire Service Center near Turnersville NJ
Checking your tire's air pressure each month will ensure that your tires are performing at their highest level, providing you with the smoothest and safest ride. If you live in the areas of Turnersville, Cherry Hill, or Mount Laurel and you notice that your tires lose a lot of pressure each month or that you are filling them up more than once a month, contact us at Prestige Volkswagen. We'll take a closer look at each of your tires and see if there is a slow-leaking puncture or a faulty air valve. It's our priority to get you, and your tires, back on the road!