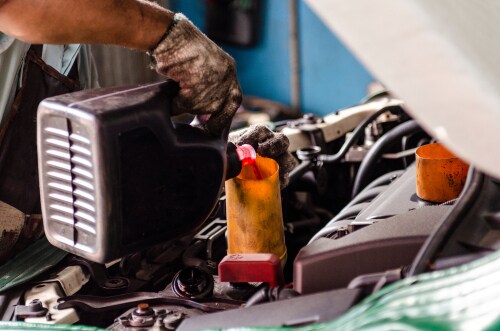 Here at Prestige Volkswagen, we've been getting lots of questions about how to check your transmission fluid from our customers in Turnersville, Cherry Hill, Mount Laurel, and the surrounding NJ communities.
So, without further ado, here's your guide to doing it yourself. However, if you're not comfortable with that, you can schedule an appointment at our service center. Instead, our experts will take care of it!
You can do that by calling us, chatting with us online, filling out a form on our site, or stopping by today.
How to Check Your Automatic Transmission Fluid
You should periodically check your automatic transmission (AT) fluid. But, you should particularly check it if your vehicle starts to hesitate before it shifts gears. Issues like this can often be attributed to AT fluid.
Prepare Your Car:

 

Put the gearshift in Neutral or Park, and leave the engine running. The engine needs to be warm when you pull out the dipstick, or else you won't get a proper fluid reading.
Locate the Dipstick:

 

In your typical inline engine, the automatic transmission fluid dipstick is going to be located behind the oil dipstick (which many drivers are already familiar with). For front-wheel drive vehicles, it's usually going to be sticking out of the transaxle (right-hand side).
Check the Fluid:

 

Now, pull out the dipstick, put your index finger in the fluid, and rub the fluid between your index finger and your thumb. The fluid should be pinkish/clear and smooth. Also, it shouldn't smell burnt or have any visible particles in it. If it does, it's time to change it ASAP.
Clean the Dipstick Off and Reinsert It:

 

Make sure that you wipe it off with a clean, lint-free rag.
After you check to see if the fluid needs to be replaced, you should actually pull the dipstick out again to examine the fluid levels. If your AT fluid doesn't reach the 'Full' line, then you need to add some more (which is different from replacing old/dirty fluid). Make sure that you add the proper type of AT fluid!
How to Check Your Manual Transmission Fluid
Checking manual transmission fluid is infinitely more difficult, as you actually have to check it with the vehicle on a hoist. The plug is on the bottom of the transmission, which can only be reached from below the car. Needless to say, if you need this procedure done, get in touch with our expert VW technicians.
Set up a transmission appointment at Prestige Volkswagen right now!
Sometimes, you might not want to go through all the work of dealing with your transmission fluid yourself-even if it's a relatively easy-to-check automatic transmission. Trust us…we understand…
That's why our Prestige Volkswagen team is here to take care of all your automotive service needs.
You can set up an appointment either on the phone or on our website. Or, you can stop by our service center firsthand, as we're only a short drive away from Mount Laurel, Cherry Hill, and Turnersville, NJ.