At some point, nearly every driver will notice that their brakes have begun to make a squeaking or squealing sound. While this can be an indicator that you need brake service, that is not always the case.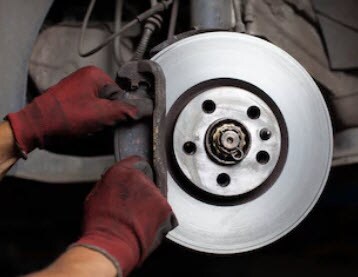 The are many reasons for noisy brakes, and the reasons can depend on the type of brakes you have, disc or drum. To help you understand some common causes of brakes squeaking, our team has created this comprehensive guide for our customers in Turnersville, Cherry Hill, Mount Laurel and the surrounding New Jersey communities.
Noisy Disc Brakes: Three Culprits
If your car has disc brakes, there are typically three major reasons that they're squeaking. Moisture, excessive wear and cheap, low-quality brake pads can all cause your brakes to squeal.
Moisture: When brake rotors get wet from rain or dew, a thin layer of rust will actually form on the surface. When the rotor turns, the pads scrape that rust off, and it gets stuck on the outer edge of the pad. These bits of rust (metal) then embed themselves in that pad, which will cause squeaks.
Wear: Over time, your brake pads will wear down - that's just an inevitable consequence of friction. This type of noise is actually a helpful reminder that it's time to get some new pads!
Cheap Pads: Unfortunately, long-term squeaking can occur when you're driving around with extremely cheap brake pads. These pads have a higher metal content than their better-quality counterparts, which causes the squeaking sound.
Noisy Drum Brakes: One Offender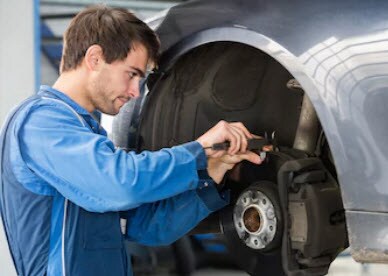 If your car has drum brakes, that squeaking is usually due to one issue-the shoe-to-backing-plate contact point needs additional lubrication. This cause of noisy brakes is a quick and simple fix when you bring your car in for service. Our VW repair squad can lubricate the area between the shoe and the backing plate, which will effectively prevent those bothersome noises for miles and miles to come.
Schedule a Brake Service Appointment Today at Prestige Volkswagen!
It doesn't matter if your vehicle is a Volkswagen or not; it doesn't matter if it's running disc brakes or drum brakes; and it doesn't matter why exactly they're squeaking. Our automotive techs at Prestige Volkswagen can help. We'll offer you courteous, professional service and quality parts to get you back on the road.
Schedule a service appointment on our website today. Our experts have plenty of experience with repairing and replacing brakes for Mount Laurel, Cherry Hill and Turnersville drives.
You may also simply call us on the phone or stop by in person today.